ReportsnReports.com adds "Automotive Catalyst Market by Type (Platinum, Palladium and Rhodium), Vehicle Type (Light-Duty Vehicles, Heavy-Duty Vehicles), and region (North America, APAC, Europe, South America, and Middle East & Africa) - Global Forecast to 2023" report to its research store.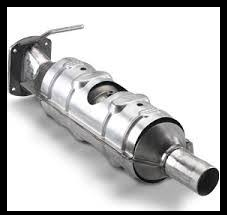 — The
automotive catalyst market
is projected to reach USD 15.73 billion by 2023 , at a CAGR of 5.0% from USD 12.35 billion in 2018.One of the significant factors driving the growth of the automotive catalyst market is the increasing emission standards. Strict emission control standards in emerging countries in the Asia Pacific and South America to reduce environmental pollution are expected to drive the automotive catalyst market. However, growth of electric vehicles can curtail the growth of the automotive catalyst market in emerging economies. Get Free Market Updates Now at
https://www.reportsnreports.com/contacts/requestsample.aspx?name=1626492
. Break-up of primary interviews is given below: • By Company Type: Tier 1 –27%, Tier 2 – 46%, and Others – 27% • By Designation:%, C-Level -18%, Director level – 36,and Others -46% • By Region: North America – 28%, APAC– 27%, Europe –18%, South America – 18%, and the Middle East& Africa –9% Objective of Automotive Catalyst Market Report: The report aims at estimating the market size and future growth potential of the automotive catalyst market which has been segmented on the basis of vehicle type, type, and region. The report provides detailed information regarding the major factors influencing the growth of the automotive catalyst market. It also analyzes opportunities in the market for stakeholders and delineates a competitive landscape for market leaders. Additionally, the report profiles key players and comprehensively analyzes their core competencies. The top-down and bottom-up approaches were used to estimate and forecast the size of the automotive catalyst market and estimate the size of various other dependent submarkets. This research study involved the use of extensive secondary sources, directories, and databases, such as Bloomberg BusinessWeek and Factiva, to collect information useful for this technical, market-oriented, and commercial study of the automotive catalyst market. In-depth interviews with various primary respondents were conducted to verify critical qualitative and quantitative information as well as to assess growth prospects. Key companies profiled in this market research report includeBASF(Germany), Johnson Matthey (UK), Umicore (Belgium), Cataler (Japan), Cummins (US), Heraeus (Germany), INTERKAT (Germany), and Tenneco (US). Get Discount Now at
https://www.reportsnreports.com/contacts/discount.aspx?name=1626492
. Major Market Developments: In December 2017, BASF expanded its mobile emission catalysts production site in Ṥroda Ṥl¹ska, Poland. This expansion increased the manufacturing site by 14,000 square meters and involve the addition of new production lines. In September 2016, Umicore increased its manufacturing capacity in the newly commissioned plant in Poland. The introduction of new emission regulations in Europe requires a broader range of ever more technologically advanced products such as selective catalytic reduction (SCR) and advanced three-way catalysts (TWC). In June 2018, Clariant expanded its range of Envicat catalyst to incorporate high-performance solution for selective catalytic reduction (SCR). The catalyst comprises of a honeycomb structure block made of a vanadium based composite which is designed to catalyze NOx reduction reactions. Key Target Audience: • Manufacturers of Automotive Catalysts • Traders, Distributors, and Suppliers of Automotive Component Parts • Regional Manufacturers' Associations and General Automotive Associations • Government and Regional Agencies and Research Organizations • Investment Research Firms Reasons to buy automotive catalyst report: The report will help market leaders as well as new entrants in this market in the following ways: This report segments the automotive catalyst market and provides the closest approximations of revenue numbers for the overall market and its sub segments across different regions. This report helps stakeholders understand the pulse of the market and provides them with information on key market drivers, restraints, challenges, and opportunities. This report helps stakeholders identify competitors and gain insights to improve their positions in the market. The competitive landscape section includes new product developments, expansions, agreements, acquisitions, and joint ventures. Read the complete report now at
https://www.reportsnreports.com/reports/1626492-automotive-catalyst-market-by-type-platinum-palladium-and-rhodium-vehicle-type-light-duty-vehicles-heavy-duty-vehicles-and-region-north-america-apac-europe-south-america-and-middle-east-africa-glob-st-to-2023.html
.
Contact Info:
Name: Hrishikesh Patwardhan
Email: Send Email
Organization: ReportsnReports
Phone: + 1 888 391 5441
Website: https://www.reportsnreports.com/contacts/requestsample.aspx?name=1626492
Source URL: https://marketersmedia.com/automotive-catalyst-market-trends-analysis-industry-manufacture-players-global-forecast-to-2023/421988
Source: MarketersMedia
Release ID: 421988