Authors who have been turned away by traditional publishing houses can now turn to the Amazon Kindle Direct Publishing Program as a proven platform for success. James E. Craven, author of Tunnel Vision-The Bomb Maker has Arrived, says how he has taken full advantage.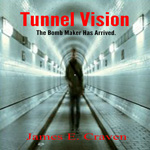 December 27, 2012 /MarketersMedia/ — It is an amazing period of time for indie authors or previously unknown authors to make an impact in the publishing world. Never before has there been a time in history when so many unknown authors have burst onto the scene all at once. In this instance, James E. Craven, a previously unheard of writer and author publishes his first novel using Amazon's Kindle Direct Publishing Program and within a week has near record sales. This fast paced action thriller entitled: Tunnel Vision-The Bomb Maker Has Arrived is looking to eclipse ten thousand sales within the first week of publishing. It has been proven that a catchy headline and description both help to sell online and off line books. Of course, so do book covers. James E. Craven has both, and what has made his book such a success, is what lies within.
Ultimately, this new Kindle novel by James E. Craven tells a story of hardship, inspiration and survival as the main character and hero (Michael McDaniels) miraculously overcomes one horribly impossible situation after another. This new novel is undoubtedly one of the most hair-raising Kindle action thriller releases of 2012. The author has certainly managed to make the most out of Amazon's KDP Select program with over 5000 free downloads. Most of the reviews available on Amazon.com have been 4 and 5 stars, extremely positive and have described the novel as being the best action thriller of the year and possibly all-time. It appears as if James E. Craven has made himself some lifelong fans as sales continue to pour in at Amazon.
Commenting, James E. Craven confirmed, "I am absolutely blown away by the response I have received at the Kindle Amazon bookstore. I never fully expected the amount of downloads my new novel Tunnel Vision-The Bomb Maker Has Arrived received during the KDP Select period. It proves Amazon's KDP Select program is a complete success. How else could a first time author like myself garner so much attention from the release of a fiction novel in the very competitive thriller genre? Mind you, this is with no agent, and no marketing team, yet I've somehow managed to eclipse the 500 top best sellers list of all Amazon Kindle books within the first week of sales. Amazing... I am truly grateful to the creators of Amazon's Kindle Direct Publishing for allowing newcomers like myself to showcase their work. I am now considering becoming a full time writer and author. Unless of course, my fans disapprove." He winks and laughs as thousands download his new book on their e-reading devices daily.
Contact Info:
Name: James E. Craven
Email: Send Email
Address: PO Box 812 Wilmington, Vt. 05363
Website: http://www.amazon.com/Tunnel-Vision-The-Maker-Arrived-ebook/dp/B00AHNT3EO
Source URL: https://marketersmedia.com/author-james-e-craven-announces-successful-release-of-new-action-thriller-novel-on-amazon-com-kindle-direct-publishing-program/2417
Source: MarketersMedia
Release ID: 2417