Sydney-based building and construction project management software company, PX360 has developed a unique software specifically for the Australian residential construction market. The software has live cost tracking, budgeting, contract administration, Gantt chart scheduling, project order management and more industry-leading features. Visit www.px360.com.au for more info.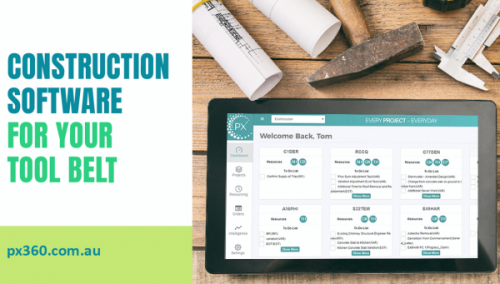 Balmain, Australia - October 15, 2020 /PressCable/ —
Australia's first specifically designed residential construction project management software, PX360 has been created and designed by leading industry professionals, specifically for the Australian residential construction market.
Time and cost saving features include; live budget to actual cost tracking, Xero accounting software integration, construction contract administration, Gantt chart scheduling and project order management, including labour management functionality with Site Phone App.
Speaking with PX360 Creative Director, Tom Heneker, he said: "We are excited to announce that there are many more amazing features to come. We are releasing a fully interactive tour-based Demo app in October 2020, giving prospective users the ability to have a play on the app free of charge. The interactive tour guide and simple design means that on-boarding and training staff takes hours not days.
We want to get our users up and running as quickly as possible, knowing that they have made the best decision with our software and its capabilities, so we give a full interactive Demo Portal to test and play as they need. This allows all of our users to feel comfortable before they sign up to our subscription model, which starts at $400 a month or less than a cup of coffee a day, with no signup or training costs."
One of the hardest areas for any organization to be able to know at any point is where their actual spend sits against the budget. PX360 gives you total project costs, as well as individual tasks via their cost tracking feature. For example, timber floor framing or roof framing and even down to its labour, material, contractor and equipment detailed analysis.
PX360 understands that many builders are aware in their head whether they are under or over budget, per trade area. With the software's budgeting feature doing all the hard work, it gives builders another tool for their tool belt with the ability to identify the exact areas of under or over spend. This information is provided within seconds via PX360's one-click reporting, which is vital for users to learn and benefit from, as well as gain the vital knowledge to use within the next project tender. This feature gives users the ability to tighten rates or give themselves more budget to not lose money on the next project. It allows users to track their variations, as well as defect rectification spend totals, so they know which tasks really made them money, come the end of the project.
PX360's integration with Xero ensures that every project cost comes into your project. The software creates an accurate project cost summary and detailed analysis with a selection of one-click reports. If you do 'cost plus projects', this software is the one for you. The 'Progress Claim' section is the best in the industry! It works by using all of the job costs (labour and suppliers) and intelligently presents for the architect or owner to quickly approve and create an invoice in PX360 or Xero. Saving hours for this tool alone.
With residential and light commercial projects in-mind, the relevant industry contracts are aligned to the contract administration feature of the software. Project contract type is selected on setup with 'cost plus' or 'fixed price' contracts. Giving each unique contract type the additional features they need to make each job simpler to run for the user.
Smart automation features includes the ability to quickly manage new and existing tasks with variation and provisional sum adjustments. Including email client approval as well as integration through the other areas of Gantt charting and 'planning' tab with project budgets, saving hours with new budgets updating immediately on approval. All tracking by a familiar site diary calendar or through the software's quick search. Filing is a thing of the past!
Site team management is also available via the Site Phone App, which is designed specifically for employees and contractors who are "swinging the hammer" each day. Time tracking makes it simple to gain the labour time for each task for budget tracking but also works as the timecard for Xero Payroll. Simple and efficient.
Users' site teams can also help with the photo documenting of any project. All photos from sign-off, site issues, variations, defects and completed work can be sent from any staff assigned to the project. This is catalogued each day within the interactive site diary. The photos can be quickly retrieve at any point for re-use or download. Giving users the power to always have that picture at their fingertips!
This software boasts "Construction Software for your Tool Belt", the approach of extremely simple project managing software is exactly what they have done. This software will definitely make your project management a breeze!
For more information about this industry-leading software, visit www.px360.com.au.
Contact Info:
Name: Tom Heneker
Email: Send Email
Organization: PX360
Address: 399 Darling Street, Balmain, New South Wales 2041, Australia
Phone: +61-2-8074-1503
Website: https://www.px360.com.au
Source: PressCable
Release ID: 88980986