Avid versatile writer and poet, Samira Vivette, releases her first poetry and prose collection titled, "Pastel Dreams and Glittered Hearts"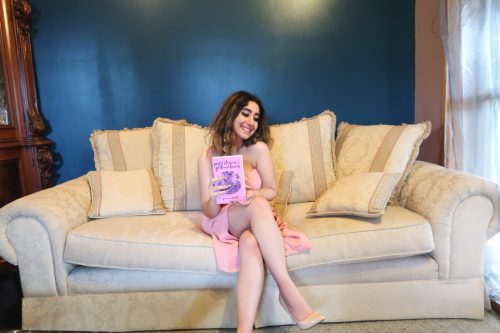 May 21, 2020 — Samira Vivette is making the grandest possible entrance into the literary world with her first poetry collection that reached #2 on Amazon's Best Seller's List in the international category – "Poetry by Women." Titled "Pastel Dreams and Glittered Hearts," the book is particularly unique, containing ten completely different chapters with ten different themes, offering lovers of poetry an amazing blend of different issues in one compilation.
Poetry is described by many as a form of art that people use for self-expression. Over the years, several globally-recognized poets have put their thoughts together in collections that have greatly influenced the lives of millions of people worldwide. However, many of the available poetry collections are often centered on a particular subject as perceived by the author. Samira Vivette is seemingly putting a twist to poetry with her first compilation that contains ten different themes.
In what Samira describes as a "mixed bag of candy," "Pastel Dreams and Glittered Hearts" talks on contemporary issues, detailing the journey of pain to healing within its 355 pages. The themes contained in the book include solitude, loving the darkness, and broken friendships. Other themes in the collection are toxic love and heartbreak, grief, anxiety, finding love, femininity, and memories.
Samira's unique writing style was again evident in "Pastel Dreams and Glittered Hearts," and her creativity and ingenuity helped to endear the book to the hearts of poetry lovers, reaching #1 on the Amazon Best Seller's List for Australian and Oceanian Poetry, with accolades coming from readers worldwide.
"I absolutely loved the part (Mirror sparkles and cherry red lips) where the author wrote about "imperfections." These poems felt like they were written for a reader, to feel them, and to feel empowered and beautiful after reading them. And I personally think the author succeeded here," said Barbara from Zagreb, Croatia.
"The imagery in this collection was amazing! The author's voice was clear and relatable with each new page. Each piece left me thinking and rereading," said Madison from Torrance, California.
"Reading this book will make you realize that it's time... it's time to walk away. It's time to free yourself from all the pains that are hurting you the most. It's time to run chasing your dreams. It's the perfect time to love and to find yourself in the glitters of the world. Go out of that darkness and let the light of the world outshine and color the beautiful soul you have. The world is waiting for you," said Glaze from the Philippines.
"Pastel Dreams and Glittered Hearts" is now available on Amazon in Paperback and Kindle formats for lovers of poetry worldwide.
For more information about Samira Vivette and her works, please visit - http://www.samiravivette.com. Samira also has a relatively strong presence on Instagram where she has been sharing her poetry with her teeming fans and followers.
About Samira Vivette
Samira Vivette is an Australian author and poet. An avid writer her entire life, the talented poet has a versatile writing approach and draws inspiration from unconventional ways of thinking and themes that are often overlooked.
Contact Info:
Name: Samira
Email: Send Email
Organization: Samira Vivette
Website: http://www.samiravivette.com/
Release ID: 88958605