Artificial Casings Market by Type (Collagen Casing, Cellulose Casing, Plastic Casing, Fibrous Casing, Value Added Casing, Textile Casing, and Net Casing) and Geography–Global Forecast to 2025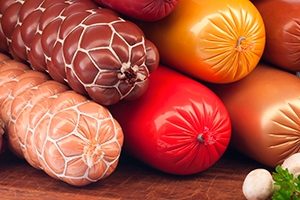 Pune, India - January 14, 2020 /MarketersMedia/ — Artificial casings were developed at the beginning of the 20th century when there was a huge demand-supply gap mainly due to growing meat industry. The shortage of natural casings in some countries due to price volatility and complications of obtaining natural casings have resulted in the emergence of artificial casings as an alternative to natural casings. Meticulous Research® in its latest publication on Artificial Casings Market states that the global artificial casings market will increase at a CAGR of 6.4% from 2019 to 2025 to reach $4.8 billion by 2025.
Growth of the global Artificial Casings market is mainly attributed to increase in the global population and subsequent rise in the meat consumption and production, increasing sausage manufacturer's focus on productivity and costs reduction, accelerating investments from leading players, increasing preference to artificial casings by sausage manufacturers, casings manufacturers' shift from natural casings to artificial casings due to operational challenges, and rising number of food restaurant chains.
Get Inside Scoop Of The Report, Request For Sample PDF @https://www.meticulousresearch.com/request-sample-report/cp_id=5035
(Note: Sample PDF Download with TOC, Charts, and Graphs)
To provide efficient analysis, Meticulous Research has segmented this market on the basis of type (collagen casings, cellulose casings, plastic casings, fibrous casings, value-added casings, textile casings, and net casings), and geography (North America, Europe, Asia-Pacific, Latin America, and Middle East and Africa).
Wherein, geographically, North America commanded the largest share in this market followed by Europe. The major share of North America is mainly attributed to its well-established food and beverage industry, huge consumption of sausage and processed meat products, and increasing number of fast-food restaurant chains.
While in terms of types, collagen casings accounted for the largest share in the global artificial casings market in 2019. The large share of this segment is mainly attributed to its cost to produce sausages in collagen is significantly lower than making sausages in gut because of higher production speeds and lower labor requirements. In addition, beneficial properties of these casings such as edible, standard diameter, uniformity, and strength are also contributing to the large adoption.
Key Players:
The report provides competitive intelligence in terms of financials, growth strategies, product portfolios, and geographical presence on some of the key players in this market including Viscofan, S.A. (Spain), Devro plc (U.K.), Selo B.V. (the Netherlands), Shenguan Holdings (Group) Limited (China), DAT-Schaub Group (Denmark), ViskoTeepak Holding Ab Ltd. (Finland), Fibran, S.A. (Spain), Viskase Companies, Inc. (U.S.), Innovia Films Limited (U.K.), Colpak (South Africa), Nippi, Inc. (Japan), FABIOS S.A. (Poland), Nitta Casings Inc. (U.S.), Kalle GmbH (Germany), and Oversea DeWied International LLC (U.S.).
More Insightful Information | Download free research report @ https://www.meticulousresearch.com/download-sample-report/cp_id=5035
Key Topics Covered in This Report:
1. Introduction
1.1. Market Ecosystem
1.2. Currency and Limitations
1.2.1. Currency
1.2.2. Limitations
1.3. Key Stakeholders
2. Research Methodology
2.1. Research Process
2.1.1. Secondary Research
2.1.2. Primary Research
2.1.3. Market Size Estimation
3. Executive Summary
4. Market Insights
4.1. Introduction
4.2. Drivers
4.2.1. Increase in the Global Population and Subsequent Rise in the Meat Consumption and Production
4.2.2. Increasing Investments from Leading Players
4.2.3. Increasing Preference to Artificial Casings by Sausage Manufactures
4.2.4. Casings Manufactures' Shift from Natural Casings to Artificial Casings Due to Operational Challenges
4.2.5. Rising Number of Fast Food Restaurant Chains
4.3. Restraints
4.3.1. Consumer Preference to Natural Casings Over Artificial Casings
4.4. Opportunity
4.4.1. Emerging Economies - Southeast Asia, Latin America, and Africa
4.5. Challenges
4.5.1. Animal Diseases and Health Concerns
4.6. Market Share Analysis
5. Artificial Casings Market, by Type
5.1. Introduction
5.2. Collagen Casing
5.2.1. Edible Collagen Casing
5.2.2. Non-Edible Collagen Casing
5.3. Cellulose Casings
5.4. Plastic Casings
5.5. Fibrous Casings
5.6. Value Added Casings
5.7. Textile Casings
5.8. Net Casings
6. Artificial Casings Market, by Geography
6.1. Introduction
6.2. North America
6.2.1. Introduction
6.2.2. U.S.
6.2.3. Canada
6.4. Europe
6.4.1. Introduction
6.4.2. Germany
6.4.3. Italy
6.4.4. France
6.4.5. Spain
6.4.6. U.K.
6.4.7. Poland
6.4.8. The Netherlands
6.4.9. Russia
6.4.10. Rest of Europe
6.5. Asia-Pacific
6.5.1. Introduction
6.5.2. China
6.5.3. India
6.5.4. Japan
6.5.5. Australia
6.5.6. Rest of Asia-Pacific
6.6. Rest of World
6.6.1. Introduction
6.6.2. Latin America
6.6.2.1. Introduction
6.6.2.2. Brazil
6.6.2.3. Mexico
6.6.2.4. Chile
6.6.2.5. Argentina
6.6.2.6. Colombia
6.6.2.7. Rest of Latin America
6.6.3. Middle East & Africa
7. Competitive Landscape
7.1. Introduction
7.2. Acquisitions and Mergers
7.3. Partnerships, Collaborations, and Agreements
7.4. New Product Launches
...To Read More TOC Click Here @ https://www.meticulousresearch.com/product/artificial-casings-market-5035/
Key questions answered in the report-
1. Which are the high growth market segments in terms of type and countries?
2. What is the historical market for artificial casings across the globe?
3. What are the market forecasts and estimates from the period 2019-2025?
5. What are the major drivers, restraints, opportunities, and challenges in the global artificial casings market?
6. Who are the major players in the global artificial casings market and what share of the market do they 7 hold?
8. Who are the major players in various countries and what share of the market do they hold?
9. How is the competitive landscape?
10. What are the recent developments in the global artificial casings market?
11. What are the different strategies adopted by the major players in the global artificial casings market?
12. What are the geographic trends and high growth countries?
13. Who are the local emerging players in the global artificial casings market and howdo they compete with the other players?
Contact Info:
Name: Khushal
Email: Send Email
Organization: Meticulous Market Research Pvt.Ltd
Address: Pune ,India
Phone: +91-744-778-0008
Website: https://www.meticulousresearch.com/product/artificial-casings-market-5035/
Source URL: https://marketersmedia.com/artificial-casings-market-will-reach-usd-48-billion-by-2025-meticulous-research/88942664
Source: MarketersMedia
Release ID: 88942664