ARMA USA are the makers of the ARMA 100 Bean Bag Gun that was originally designed for law enforcement and now is available to the public.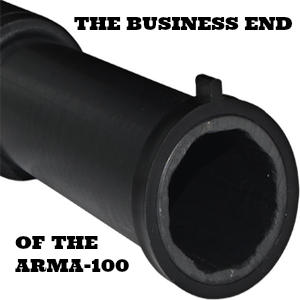 February 6, 2014 /MarketersMedia/ — ARMA USA are the makers of the ARMA 100 bean bag gun. This self defense product was originally designed and produced for law enforcement and is now available to the public. It is considered to be the most effective alternative to lethal self-defense products available. Everyone is aware of the risks of owning a gun, and other self defense products such as tasers, mace and pepper spray require being close to an attacker. The ARMA 100 though, unlike guns, is non-lethal. Unlike the other href="http://www.armausa.com/self-defense-products-arma-100/">non-lethal self defense products though, it allows people to keep a safe distance from attackers while still offering ultimate protection.
Jess I. Galan, Retired Forensic Firearms Examiner, said, "In nearly 30 years spent in law-enforcement, I have come across most, if not all, [other personal defense devices]. Most work to some degree…. Enter the Arma 100. The Arma 100 is a modern version of an impact-projecting weapon that's extremely well-adapted to the needs of law-enforcement and security personnel today. In fact, this defensive weapon's appearance alone may in some cases be enough to bring the situation under control. Another advantage of the Arma 100 is that it is virtually maintenance-free and simple to use."
http://youtu.be/lT_Kzfnu2vM
There is no need for background checks in order to own an ARMA 100 bean bag gun. There are also no requirements for licenses, it is completely legal in all 50 states. Anyone can learn to safely and easily use this self defense product due to how it can be loaded quickly and is legal to carry loaded. For those who value home and personal protection, don't want to have the risk of guns in their possession, and would like to keep a safe distance from attackers, the ARMA 100 is the perfect choice and can be carried anywhere. Visit ARMA's site here
Contact Info:
Name: Burt Dillon
Organization: ARMA USA INC.
Source URL: https://marketersmedia.com/arma-100-self-defense-weapon-is-safe-effective-and-legal/32791
For more information, please visit http://www.armausa.com
Source: MarketersMedia
Release ID: 32791