Profacgen is pleased to release its antimicrobial peptides services for its customers worldwide to help them with their analysis needs.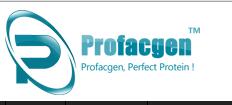 Shirley, United States - May 27, 2020 /MarketersMedia/ — Profacgen, a biotech company that has accumulated experience in virtually all aspects of protein development and production, is pleased to release its antimicrobial peptides services for its customers worldwide to help them with their analysis needs.
Antimicrobial peptides (AMPs) are produced by a variety of organisms and their cells. As a component of innate immunity, AMPs are responsible for protecting the host against pathogens. AMP is usually composed of 12 and 50 amino acids. In addition to its immunomodulatory activity, AMP has a wide range of antibiotic activities against bacteria, yeast, fungi and viruses as well as cytotoxic activity against cancer cells. So far, they have been shown to be present in various organisms (bacteria, fungi, animals, and plants), and thousands of AMPs have been discovered and demonstrated. Of these, most are cationic AMPs, which have key antimicrobial effects.
With the advantages over the traditional antibiotics like: broad-spectrum, rapid activity, low susceptibility to resistance development, bactericidal effect independent of the bacterial growing state, the ability to reduce concentrations of single drugs and thus their side effects, and delay drug resistance evolution, AMPs have garnered interest as novel therapeutic agents.
As one of the well-known service providers in biotechnology field, Profacgen's analysis services utilize advanced technology and proven expertise to help customers meet their analysis needs. Profacgen can offer a series of AMPs-related service, including:
• AMPs synthesis service
• AMPs activity assay service
• AMPs development
• AMPs modification and design
"Our wide-range service portfolio is designed to bring a versatile and reliable platform for custom protein production and development. In the past decade, we have helped our customers with hundreds of projects ranging from proof of concept studies to pilot manufacturing and mass production." Said Crystal, the representative speaker from Profacgen.
If you feel interested and want to know more, please visit https://www.profacgen.com/services/protein-production/antimicrobial-peptides-services.
About Profacgen
Profacgen provides process development and cGMP manufacturing services for biological active ingredients. We have ready access to state-of-the-art biopharmaceutical product development and manufacturing facilities and our staff scientists have demonstrable expertise in all aspects of biopharmaceutical manufacturing, from facility design and operation to the ability to provide best advice relating to product development.
Contact Info:
Name: Ellen Burns
Email: Send Email
Organization: Profacgen
Address: 45-1 Ramsey Road, Shirley, New York 11967, USA
Website: https://www.profacgen.com
Source URL: https://marketersmedia.com/antimicrobial-peptides-services-now-available-in-profacgen/88959329
Source: MarketersMedia
Release ID: 88959329