Today, uneven pigmentation affects most people, regardless of ethnic background or skin color. Skin may either appear lighter or darker than normal. New chemically safe and effective formulas are developed by leading skincare manufacturers.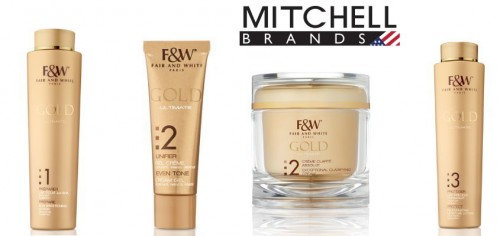 Miami,, USA - - December 5, 2013 /MarketersMedia/ — Mitchell Group's Beauty Brand has launched another best seller, F & W Gold Ultimate, The Secret To An Eternal Skin Glow.
Throughout history Gold has been recognized for its luxurious and beautifying properties. Researchers have made a real breakthrough in hyperpigmentation treatments that promise the most exciting advances in depigmentation skincare in this decade. New skincare product GOLD ULTIMATE enhances people skins natural beauty, brightening/lightening and preserving its flawless texture and tone with specific skincare solutions that offer a complete line of 13 exceptional skincare formulas for every woman who has whitening concerns.
This eponymous skin care line is designed as a 3-step regimen.
- Prepare
- Even Tone
- Protect
GOLD Ultimate regimen solutions consist of the following treatments:
1. Prepare - Cleanse and Exfoliate
Solution: Satin Exfoliating Soap, Sugar Exfoliator, AHA Brightening Cream, AHA Brightening Lotion
Cleanses and prepares the skin with a gentle exfoliation treatment that softens and brightens skin.
2. Even Tone - Fade and Brighten
Solution: Revitalizing Fade Cream, Exceptional Clarifying Cream, Intense Argan Oil, Revitalizing Body Lotion
Specialized Cream Gel, Maxi Tone Lotion
Even tone's categorized products restore a uniform complexion as it tones and lightens dark spots, revealing a luminous glow.
3. Protect – Hydrate and Prevent
Solution: Protects skin from environmental aggressors and prevents skin aging as it moisturizes and maintains a beautiful flawless complexion.
Education tip: The only way to see a visible result with GOLD is to follow this quality regimen which will change the behavior and appearance of the skin. Nowadays, it is totally possible to achieve radiant, even toned skin at any age in a relatively short period at a low cost.
Retail pricing is affordable and varies from $19.00 to $77.00.
Mitchell Group is a leading topical cosmetic manufacturer that develops skincare products to safely address skin care concerns. With ongoing research and development, the Mitchell Group's laboratory facilities in Switzerland, Lebanon and France continue to use cutting-edge formulations that promote and produce healthy skin. All formulas are rigorously tested with clinical and laboratory trials to insure its effectiveness and consumer safety.
Contact Info:
Name: Dominique Tinkler
Organization: Mitchell Group
Address: 1 SE 3rd Ave. Miami, FL 33131
Phone: 1- 888-726-6211
Source URL: https://marketersmedia.com/amazin-new-skin-lightening-product-hits-the-market/27079
For more information, please visit http://www.mitchellbrands.com/brands/Gold.html
Source: MarketersMedia
Release ID: 27079