Emergency rooms treat people for car accident injuries every ten seconds, on average reports Alexander Law Firm.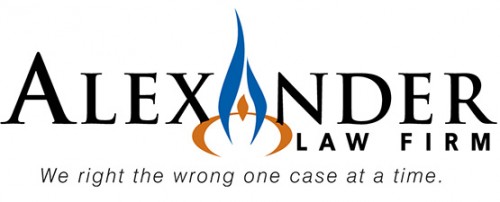 Houston, Texas,, United States of America - - January 23, 2014 /MarketersMedia/ — According to the Centers for Disease Control and Prevention, productivity losses and medical care costs associated with motor vehicles accidents came in at over $99 billion in 2010, which works out to approximately $500 per licensed driver in the country. "When one sustains injuries in a vehicle accident, an accident that was due to no fault of their own, an injury attorney is needed to protect the interests of the injured party," Terresa Lecompte of Alexander Law Firm declares.
Sadly, according to data gathered in 2005 by the CDC, a person receives treatment in a hospital emergency room every ten seconds for injuries sustained in a motor vehicle crash. "A Houston car accident attorney works with the injured party to see that compensation is received not only for these injuries, but also for lost productivity, quality of life and more. The crash affects not only the injured party, but also their friends, family and loved ones, and this must be taken into consideration when compensation is requested," Lecompte explains.
Injured persons find they face a number of challenges at one time. In addition to dealing with the need for medical treatment for their injuries, they may be worried about obtaining a rental car to get to and from doctor appointments or how their case differs from a traditional car accident as it involves a tractor trailer. "Alexander Law Firm helps clients with these issues and many more, and has successfully obtained more than $100 million in verdicts and settlements. Clients feel comfortable working with the attorneys at the firm, knowing this is the case," Lecompte states.
Numerous clients have financial concerns following an auto accident, such as how they are going to pay regular household bills until they are able to return to work. In addition to assisting clients with wage reimbursement issues, Alexander Law Firm helps with immediate client loans. "Insurance companies refuse to play fair as their main concern lies in saving money. The Alexander Law Firm ensures clients are protected against unfair practices used by the insurance companies and works to get a reasonable settlement for every client served," Lecompte proclaims.
About Alexander Law Firm:
More than 20 years ago, Greg Alexander envisioned building a law firm that provided the very best legal counsel to all clients, leading to the establishment of the Alexander Law Firm. Every case, in the eyes of the firm, remains the most important, and the Alexander Law Firm continues to be committed to providing consistent, dependable legal services to clients through diligence and compassion. Known for successfully resolving cases, the law firm thoroughly, competently and completely represents every area of a client's injury, creating a long term relationship in the process, one that benefits all involved.
Contact Info:
Name: Terresa Lecompte
Organization: Alexander Law Firm
Phone: 800-350-5110
Source URL: https://marketersmedia.com/alexander-law-firm-represents-clients-injured-in-an-auto-accident/31293
For more information, please visit http://injuryattorney.com/
Source: MarketersMedia
Release ID: 31293