Surviveware First Aid Kit Receives Recommendation from Outdoorsy Parent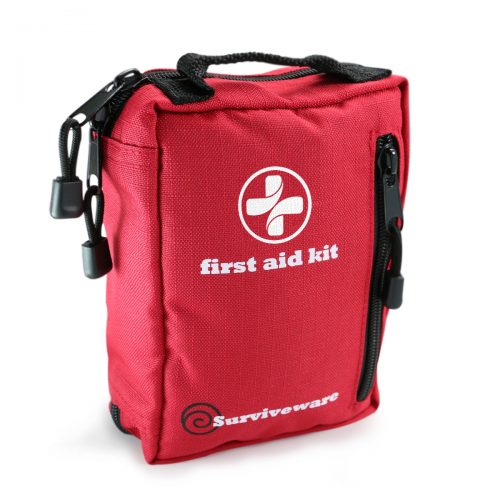 Woodbridge, United States - September 17, 2019 /MarketersMedia/ — Surviveware, a favorite adventure preparedness retailer among hikers and campers, has once again proven the worth of its Surviveware Small First Aid Kit for young families with kids. This kit, which was designed for hiking and camping, has made its way into parent's kiddie essential packs. It gives parents and adults who work with kids the assurance of having a go-to bag for emergencies and tough situations.
One of the standout features of this kit is its 100 pieces of life-saving items. More than just a wad of bandages, it holds enough essentials for stabilizing injuries such as sprained ligaments, abrasions, concussions, broken bones, lacerations, and other wounds that require immediate attention.
All of these first aid supplies are stored inside a 600D polyester bag. The items are stored inside labeled compartments that organize the items according to their use. With this labeling system, it's easier for kit owners to identify and retrieve the supplies that they need quickly. The kit comes in a red, resealable foil bag which is perfect for families who go on fishing, boating, and swimming trips. While the kit is made of durable and water-resistant fabric, this added layer of protection ensures that the kit stays fresh even when dropped in the water.
Surviveware's Small First Aid Kit has proven that it has what it takes to be a perfect child-safety first aid kit. In a review written by a father and Amazon customer, he shared his experience what triggered him to get a first aid kit for father and son adventures:
"My young son and I love to adventure. We walk, hike, bike, fish, and explore. Recently while on an adventure, I saw another family whose little boy, similar in age to my own, took a tumble. He was hurt, not critically, but enough that he needed attention. They had no first aid supplies. I had some band-aids and triplebiotic ointment, which I shared, but, he needed more than that.
Thinking of my own son, I began to think about what we might need in a similar situation. I read lots of reviews, looked at several component lists, and asked a lot of questions. Eventually, I decided on the Small First Aid Kit from Surviveware.
The kit contains useful first aid supplies like a CPR kit with a face mask, quality shears, quality tweezers, and a useful variety of first aid supplies.
It is a good kit, a light kit, a durably packaged kit, and is organized and labeled in a way that makes it even more useful. I appreciate that it also contains a useful first aid reference to be studied prior to need and referred to in an emergency.
This kit goes everywhere with us now. I strongly recommend the Small First Aid Kit by Surviveware."
Do you want assurance that your child is safe throughout the day? Purchase Surviveware's Small First Aid Kit and feel secure that whatever happens, your child is in good hands.
Order this life-saving pack today and get 20% off your purchase when you use a Surviveware Amazon discount code. Don't settle for anything less and grab your Surviveware First Aid Kit today by clicking here.
Contact Info:
Name: Amanda Condry
Email: Send Email
Organization: Surviveware
Phone: 703-910-5188
Website: https://surviveware.com
Video URL: https://youtu.be/1fqvO3fYc8A
Source URL: https://marketersmedia.com/adventure-time-with-kids-made-safer-with-surviveware-small-first-aid-kit/88919465
Source: MarketersMedia
Release ID: 88919465