Today Adaptit Group announce the launch of "The Stratco Pavilion Slique" range of patios. 3 years in the making, Adaptit will be showing off these new Brisbane Patios in 3D at the Brisbane home show on September 9th.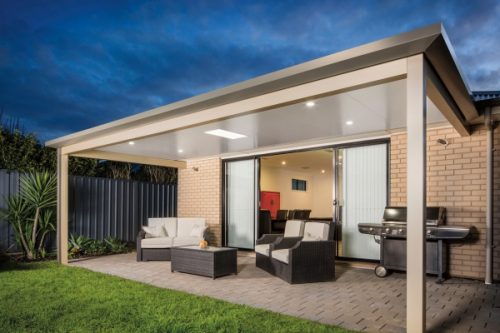 Brisbane, Australia - September 5, 2016 /PressCable/ —
Adaptit Group "An Authorised Stratco Dealer" today announced the official launch date of their Stratco Pavilion Slique range of patios. The Stratco Pavilion Slique represents the new generation of Outdoor Living.
Rumours are already starting to circulate among observers and die-hard fans within the Brisbane patio industry, as the 'Live' date of "The Pavilion Slique" draws near. Adaptit Group has leaked online the three things fans,reviewers and critics can expect from the release on September 9 at the HIA Brisbane Homeshow. The first thing customers should expect is a big improvement in the appearance of the columns and support beam. "The Pavilion Slique Patio" utilises Aluminium Composite Panel and concealed fasteners to create a bulkhead/column appearance that is the benchmark in Stylish Patio design. No longer does the Patio entertaining area have to look like an add-on to a property. Secondly, the addition of dimmable LED lighting and Pavilion daylight boxes ensures every Brisbane patio has the perfect day and night lighting solution. Increased roof spanning capabilities will also be a talking point during the home show, allowing for larger entertainment areas of cover all within the household budget. These points of emphasis are to be expected from a business who places this much value on maximising outdoor entertaining space and affordability. As well as that, Adaptit Group will celebrate the launch event by providing the public access to their 3-d design experts on their booth at The Brisbane Home Show on September 9-11, 2016.
It is their hope that this will give customers the latest information on affordable outdoor living areas and the next Generation of the Alfresco Lifestyle.
Finally, for die-hard fans of the industry, they'll be interested to know what went into making "The Pavilion Slique". It has taken Stratco 3 years to develop, from start to finish, from the initial idea to creating the final product. The "Pavilion Slique Patio" is also made up of insulated roofing, concealed fasteners and downpipes and an unparalleled aesthetic. The Pavilion Slique is backed by Adaptit Groups 6.5 year workmanship guarantee and Stratco's 15 year structural warranty. This should provide total satisfaction to Brisbane Patio connoisseurs.
And for more information about the product itself, more information can be found at http://www.adaptitgroup.com.au/services/patios/stratco-pavilion-silique/
Contact Info:
Name: Chris Herbertson
Organization: Adaptit Group
Address: U5/ 152 Bluestone Circuit, Seventeen Mile Rocks QLD 4073
Phone: +6173376 4588
Website: http://www.adaptitgroup.com.au
Source: PressCable
Release ID: 130767