Roland Takaoka passed away from his fourth stroke last August. He left behind a memoir, written after his third stroke, which was never published. Lynn recognized its value and turned to Indiegogo to publish his memoir, to support other stroke survivors and their families.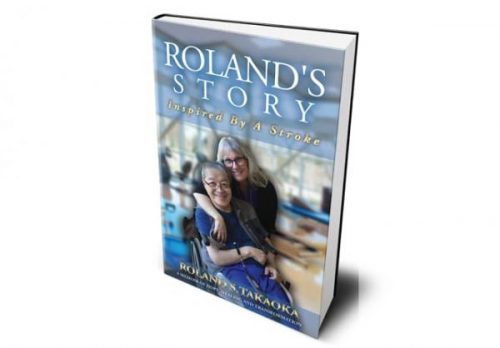 Winnetka, United States - July 6, 2019 /PressCable/ —
July 3rd, 2019 (Winnetka, IL.) The power of friendship knows no bounds. On November 6th, 2014, when Winnetka resident, Lynn Sanders of Difference Makers Media finished an online video interview with professional speaker, Dale Spencer of Palatine, she had no idea that a casual outreach by an audience member would turn into a transformational friendship.
From their first conversation, Lynn was impressed by the witty, humorous and positive spirit of Roland Takaoka. He mentioned being a stroke survivor, but that disability didn't matter, and it wasn't even noticeable from the computer screen.
Roland volunteered to help Lynn with her website marketing and serve as a wingman on Lynn's future video interviews. For the next four years, Roland made himself available through online video chats as a friend and business colleague. He worked with Lynn's online guests before and during each program, so they understood the show's technical requirements. He monitored the comment stream, and added his insightful comments. Most people never knew that Roland worked from his wheelchair, or that his entire right side was paralyzed. His happy personality captured attention, and he easily developed his own following.
Roland soon led his own programs, "The Saturday Morning Marketing Smarties," and "The Positivity Show." This was followed by co-hosting the live-streaming show, "Stroke TV," with Aaron Avila. (Stroke TV still continues with Aaron and co-host, Jerry Wald.)
Before long, Lynn's husband, Joel, also became an online friend, and appreciated website support from Roland. Within the year, Lynn and Joel decided to take a trip to visit Roland and his wife, Barbara Peeters in southern California. That first visit was so rewarding that two more visits happened. Their last time together in person was in May of 2018.
"I felt like I was greeting an old friend," said Lynn, as she reflected on seeing Roland in person. "We felt so connected from the heart. When I was concerned, Roland would reassure me, saying he would always be there for me."
Unfortunately, without warning, Roland passed away from a fourth stroke on August 23, 2018. He left behind a memoir, written after his third stroke, which was never published. Lynn recognized its value immediately.
"He describes his adventures in the hospital and rehab with such humor," said Lynn. "I loved his insights into the mind-body connection, and know his book would help stroke survivors, their families or anyone facing a challenge."
So Lynn moved ahead on a personal mission to publish Roland's memoir. She revised the original title of, "Adventures In Rehab" to "Roland's Story: Inspired By A Stroke. A memoir of hope, healing and transformation." Lynn wrote her own preface, and interviewed Roland's wife, Barbara Peeters, for an epilogue. She plans to add a list of resources for stroke survivors.
To cover the costs of publishing, printing and promotion, and provide financial support for Roland's widow, Lynn has launched a crowdfunding site on Indiegogo. She also created a video to pay tribute to Roland's uplifting spirit.
Visit our Indiegogo website to watch the video, and you'll get to hear Roland sharing his thoughts too!
"Our stories can make a difference in the world," says Lynn. "Roland's Story captures wisdom. He shows us how our thoughts can transform our life."
Lynn would appreciate any donation, as well as help in spreading the word about this crowdfunding campaign which runs through July 17th. Unique bonus perks are being given to donors. She is also seeking sponsors who'd like to be featured in the book. To learn more, contact Lynn Sanders, Difference Makers Media, at 847-501-2867. Email: lynn@differencemakersmedia.com
About Difference Makers Media, LLC
Difference Makers Media, LLC was founded in 2017 and serves the Broadcasting and Media Production industry.
Contact Info:
Name: Lynn Sanders
Email: Send Email
Organization: Difference Makers Media, LLC
Address: 995 Pine Street, Winnetka, Il 60093, United States
Website: https://differencemakersmedia.com/
Source: PressCable
Release ID: 88892864