New short film featuring Hollywood icon Sally Kirkland, "A Medicine for the Mind," blasts into the festival circuit with a BIG win on its first Film Festival.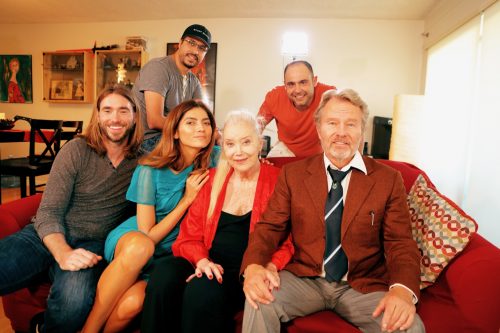 June 25, 2019 — A Medicine for the Mind is the latest project from David Xarach's production company, MARIACHI STYLE FILMS, featuring big-name talents such as Golden Globe Winner and Academy Award nominee Sally Kirkland. The unconventional drama about Alzheimer´s disease, had its L.A. PREMIERE at the SILICON BEACH FILM FESTIVAL 2019, where it got a SPECIAL ACTING ACHIEVEMENT AWARD for Sally Kirkland at the awards gala celebrated last Friday in Los Angeles.
The entertainment industry has witnessed tremendous growth over the years as different stakeholders in the industry contribute their quota to its development and the ultimate satisfaction of consumers. One individual that is looking to take on the movie industry and use her talent and ingenuity to entertain her fans worldwide is Golden Globe Winner and Academy Award nominee, Sally Kirkland. The Hollywood Legend has recently stared and producer the film "A Medicine for the Mind."
The movie combines drama, with fantasy, sci-fi, and comedy to chronicle the events surrounding an ailing 65-year-old Sandra Carter and how she was gifted a new opportunity in life. Down with Alzheimer's disease, Sandra Carter's condition kept deteriorating and all hopes seemed lost. This was until Matt finds out about a new drug that works on patients with Alzheimer's while surfing the internet.
But soon Matt and his mom will get more than they bargained for when the experimental drug, will not only grant Sandra a full recovery, but her intellect and abilities will start to defy her age, and even her human condition. And when the trial drug is taken off the market due to a plethora of unforeseen, science-defying, side effects, it will be too late, and Sandra and those who love her will have to pay the unexpected consequences.
Shot in 1 Location in Los Angeles, CA, the movie starred John Savage, Blanca Blanco, Coty Galloway, Mann Alfonso, and Sally Kirkland as Sandra. A Medicine for the Mind was directed shot and written, by award-winning Spanish/American filmmaker David Xarach.
More information about A Medicine for the Mind can be found on IMDB and the Mariachi Style Films website.
About Mariachi Style Films
Mariachi Style Films is an "all-inclusive¨ film production company, covering Los Angeles, Gran Canaria (Spain) and the Canary Islands (Spain). The services offered by the company include Development, Film Packaging, Legal Services, Production, Editing and Postproduction, and Marketing.
Contact Info:
Name: CARMEN DIAZ
Email: Send Email
Organization: MARIACHI STYLE FILMS
Website: http://www.mariachistylefilms.com
Release ID: 88889509