Highest elevation property on Santorini, with unobstructed 360 degree views is for sale for the first time. Pristine lot, with breath taking views, has investors salivating at the possibilities.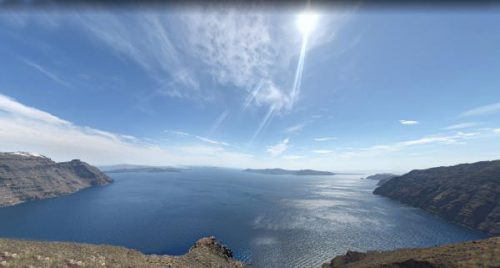 Los Angeles, United States - February 18, 2020 /PressCable/ —
Everyone knows about the history of Greece and all the accolades. The discovery of astronomy, mathematics, architecture, military superiority, democracy, etc. But Greece is also one of the top destinations for tourism. Greece was most recently voted in 2019 as the most beautiful country in the world. Ask anybody the top five places they want to go to in their lifetime and you can be guaranteed that in the top five list Greece will be there. Now ask those same people where in Greece specifically, and 10 times out of 10 the answer is Santorini.
Think about this for a second. Greece's tourism increases by 15% every year. Santorini's tourism increases by 27%. Every year it's voted as one of the top five islands in the world. A current researcher recently wrote the following:
"Santorini's Sunset is one of the most photographed in the world!"
From A-listers Beyoncé, Tom Cruise, Brad Pitt, Shakira, to billionaire Hotel investors (like Hilton who recently spent $300 million on a hotel in Santorini), to photo and film shoots including FedEx's $5 million commercial, and everyone in between, the allure and mesmerizing spectacle of Santorini is evident.
And now a lot of these people are salivating at the chance to grab one of the most spectacular lots on the island of Santorini. If Greece is the beautiful country and Santorini is its beautiful queen, then this lot is the queen's jewel. And with 24+ thousand square feet of buildable (residential or commercial), on a 10.5 acre lot, existing caves, on one of the highest elevations in Santorini, and with the only 360° unobstructed view, you can see why everyone is grasping at the once-in-a-lifetime opportunity.
Although not officially for sale till March 1, 2020, that hasn't stopped the elite and everyday investors from making offers one after the other.
A few more details can be viewed at the website https://bestviewintheworld.com/
Take a look, and who knows, you might just be that lucky individual who owns the best view in the world. But if not, you can always grab a flight to Santorini and gaze at that amazing sunset anytime.
Contact Info:
Name: T. Caruana
Email: Send Email
Organization: Santorini Dream 360
Address: 1050 Flower Street Suite 204S, Los Angeles, CA 90015, United States
Source: PressCable
Release ID: 88947044