With almost perfect 4.4/5 Star Amazon reviews, Window Armor is quickly becoming one of the most popular ways to protect your iPhone screen from daily wear and tear.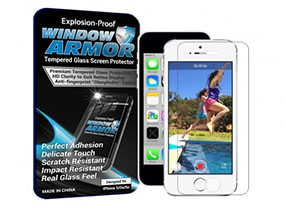 Sarasota, FL,, USA - - April 14, 2014 /MarketersMedia/ — While the iPhone 5, 5s, and 5c are settling comfortably into their roles as the world's most popular, user-friendly smartphones, the Window Armor, Tempered Glass Screen Protector looks to eliminate one of Apple's devices' less-than-desirable reputations: a delicate, and costly to repair screen.
Previously, plastic screen protector membranes were about the best users could hope for, but along with advances in the iPhones themselves have come developments in the accessories, depend on to protect them. The Window Armor screen protector, made up of several micro-layers of flexible polymers and tempered glass, hopes to embody these advances by bringing phone users a smarter, more durable solution.
If Amazon reviews are anything to go by, it's working – the product page boasts a nearly perfect 4.5/5 star average review rating. The screen protector's oleophobic top layer coating is a key factor helping it win votes with consumers; the layer helps mitigate oil from fingerprints and prevent smudging.
Window Armor also boasts one of the highest hardness ratings available to the product line, giving it the ability to withstand abuse and keep phone looking none the worse for it.
"One of the biggest things people want when putting something like Window Armor on their phones is to not have to sacrifice feel and functionality for protection," said a spokesperson for the company that produces Window Armor, "and according to our feedback we've hit the nail on the head with this version."
User reviews do repeatedly note that the Window Armor protectors leave the phone feeling "naked," or as if there were nothing on the screen at all. This bare-glass feel is usually considered the best for touch functionality and responsiveness.
At just 0.3mm thick when all's said and done, it's no surprise Window Armor all but blends into the phone once installed. The layered construction of the screen protector allows it to sandwich flexible absorption layers between more rigid shielding and scratch resistant ones, allowing for an ideal hybrid of ease of installation, protective capabilities, and user functionality.
About the manufacturer:
Window Armor is manufactured and produced by iStock Accessories, an online inventor and retailer of phone and tablet accessories. Specializing in Apple iPhone and iPad products, the company seeks to innovate by taking smartphone products to new heights. They achieve this through careful monitoring of market need and response to user-reported shortcomings in competing products.
Contact Info:
Name: Brock Hamilton
Email: Send Email
Organization: Window Armor
Address: 4283 EXPRESS LN STE 057-793 SARASOTA, FL 34238-2602 United States
Phone: (415) 992 5430
Website: http://www.amazon.com/Window-Armor-iPhone-Protector-Anti-Fingerprint/dp/B00HENW0V8
Source URL: https://marketersmedia.com/a-better-iphone-deserves-a-better-screen-protector-window-armor-safeguards-iphone-screens/40255
Source: MarketersMedia
Release ID: 40255