The President's National Infrastructure Advisory Council has produced a new report urging Americans to prepare for an emergency. 4Patriots LLC applauds the publication of this report and offers products to help people prepare.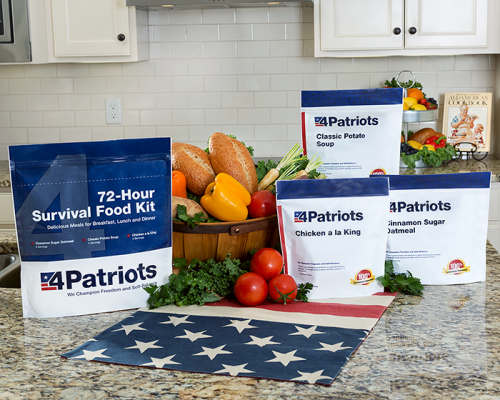 Nashville, TN , United States - December 14, 2018 /MarketersMedia/ — A new report from the President's National Infrastructure Advisory Council urges individual U.S. citizens to prepare for emergencies, citing the electrical grid as the "prime target" of terrorists, according to the Washington Examiner.
The report suggests that Americans should prepare for up to six months without electricity, transportation, fuel, money and healthcare. The report, titled "Surviving a Catastrophic Power Outage," was published by the Department of Homeland Security. Among the statements in the report is: "There needs to be more individual accountability for preparedness."
4Patriots LLC of Nashville, Tenn., which provides a variety of products that help people become more self-reliant and independent, has been preaching this same message for years.
"We at 4Patriots are very glad to see the government emphasizing the importance of individual responsibility when it comes to surviving emergencies," said Allen Baler, Partner at 4Patriots. "The Federal Emergency Management Agency (FEMA) does what it can to help people following a crisis, but they just don't have enough funds or manpower.
"As we've seen repeatedly during and following hurricanes, tornadoes, winter storms, wildfires and other extreme weather-related events, it's the people who have prepared with non-perishable food, water and an off-grid power source who are able to best handle these situations without outside assistance."
Among the products Baler's company offers is 4Patriots Survival Food with a 25-year shelf life. The 72-hour, one-week, one-month, three-month and one-year kits feature meals that can be prepared in less than 20 minutes. They require only boiling water.
The breakfast, lunch, dinner and dessert food is contained in easy-to-store Mylar pouches, which keep out air, moisture and light. They are tucked inside tough, stackable totes that are discreet and store anywhere, including the basement, attic, garage, cabin or even an RV.
In addition to survival food, Baler's company offers a variety of products that help people prepare for an uncertain future. Many of them can be found in the latest 4Patriots Catalog.
"We also offer solar-powered generators, a water-purifying pitcher, a power hub for your car battery, health-related products and much more," Baler said.
"Our customers tell us that the single best thing about preparing for a disaster is that they now have peace of mind. No matter what happens, they'll be ready."
4Patriots provides emergency food products that are shelf-stable for 25 years. 4Patriots Survival Food kits are made with food grown, harvested and packaged in the United States, and all of the meals are made without any genetically-modified products, preservatives or fillers. The kits are available in 72-hour, one-week, four-week, three-month and one-year supplies.
Contact Info:
Name: Timothy Boyle
Email: Send Email
Organization: 4Patriots LLC
Website: http://www.4patriots.com
Source URL: https://marketersmedia.com/4patriots-official-lauds-new-report-urging-individual-preparedness-responsibility/458758
Source: MarketersMedia
Release ID: 458758