Food halls are growing in popularity across the U.S., especially for business travelers seeking variety in their dining experiences. 4Patriots LLC stresses the importance of variety in one's diet – whether now or following a future emergency.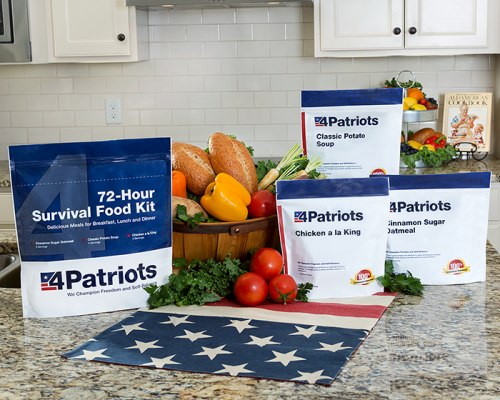 Nashville, TN , United States - November 9, 2018 /MarketersMedia/ — A growing dining trend, especially for business travelers, is the food hall, according to a recent CNN report. As an alternative to a restaurant, a food hall is similar to food courts one sees at malls. But instead of fast-food chains, the vendors offering their fares are more upscale, yet still affordable.
Diners are able to acquire a variety of different foods each time they frequent a food hall. In addition to food halls that already exist in major cities, more are scheduled to open in 2019 in Boston, Chicago, Fort Lauderdale, Houston, Las Vegas, Los Angeles, Miami, San Diego and others.
"Business travelers love variety when it comes to food, especially if they are staying in a city for several days or more," said Allen Baler, Partner at Nashville, Tenn.-based 4Patriots LLC. "But so do folks who don't travel much, and that's why food halls are becoming so popular.
"At 4Patriots, we believe food variety is very important, and that's why we provide a tremendous amount of variety in our 4Patriots Survival Food, for breakfast, lunch, dinner and desserts."
4Patriots Survival Food meals are offered in five different kits – 72-hour, one-week, one-month, three-month and one-year. The meals can be prepared in less than 20 minutes, and they require only boiling water.
The food is contained in easy-to-store Mylar pouches, which keep out air, moisture and light. They are tucked inside tough, stackable totes that are discreet and store anywhere, including the basement, attic, garage, cabin or even an RV.
Baler's company offers a wide variety of products that help people become more self-reliant and independent.
"Survival food is only one of the products we offer to help people prepare for an uncertain future," Baler said. "Much more can be found in our latest 4Patriots Catalog.
"In addition to a wide variety of survival food, we offer solar-powered generators, a water purifier system for your home and on the go, a power hub for your car battery, health-related products, and even a military-grade EMP bag.
"Our customers tell us that the single best thing about preparing for a disaster is that they now have peace of mind. No matter what happens, they'll be ready."
4Patriots provides emergency food products that are shelf-stable for 25 years. 4Patriots Survival Food kits are made with food grown, harvested and packaged in the United States, and all of the meals are made without any genetically-modified products, preservatives or fillers. The kits are available in 72-hour, one-week, four-week, three-month and one-year supplies.
Contact Info:
Name: Timothy Boyle
Email: Send Email
Organization: 4Patriots LLC
Website: http://www.4patriots.com
Source URL: https://marketersmedia.com/4patriots-applauds-growing-food-hall-trend/440601
Source: MarketersMedia
Release ID: 440601