Tempi Fluorescent Drumsticks have finally been released on Amazon.com! Get them now at http://tempibrand.com/drumsticks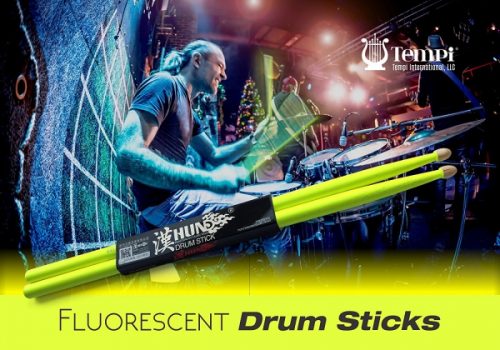 Charlotte, United States - September 22, 2017 /PressCable/ —
Music educators, drum teachers, rock musicians, take note. A new tool for every drummer's gig bag has arrived to motivate students and players of all ages. The Tempi Fluorescent Neon Yellow Drumsticks are a quality product. For a very small investment, these drumsticks will motivate and energize percussionists to practice and play with more zeal.
http://tempibrand.com/drumsticks
Made of American Hickory wood and neon-coated the full length of the stick, Tempi Fluorescent Drumsticks are easy to use and comfortable to hold. The neon color really pops when the lighting is low for those who play in clubs or bars. Students can feel proud to use these dynamic sticks and add a little bit more personality to their playing. Hickory wood is a medium-weight wood, durable and easy to play quick passages. Drumsticks made of oak are often more bulky and heavy, and therefore not as conducive for playing faster music. Maple drumsticks are lightweight and great for quick speeds but more likely to chip or break if a player is too heavy-handed. Hickory wood is the perfect compromise for weight, balance, and speed between the other two choices.
Tempi Fluorescent Drumsticks are size 5A, a classic model and very versatile. Drumsticks come in all sorts of sizes. They are classed by letter and number, the letter refers to the type of use for the player, the number to the width circumference. This classification started in the early 1900's. The "A" was originally meant orchestral playing but now is a more general all-around stick. The most common sizes made today are 2B, 5A, 5B, and 7A. "B" is for band, and "S" for street. The "S" brand is not as commonly made now.
Motivating a student to push themselves to a greater goal in their playing can be difficult. The Tempi Fluorescent Drumsticks are a prize for a practice contest or gift for working hard at practicing.
The Tempi Fluorescent Drumsticks come with a one year warranty and 100% satisfaction guarantee. So there isn't any other choice than to try a pair today at http://tempibrand.com/drumsticks
Contact Info:
Name: Daisy Day
Organization: Tempi International, LLC
Address: 100 North Tryon Street, Charlotte, NC 28202, United States
Website: https://shop.tempibrand.com
Source: PressCable
Release ID: 241985