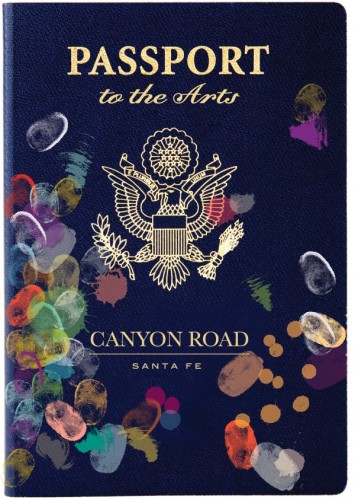 Santa Fe, NM, USA - May 6th, 2014
Waxlander Art Gallery & Sculpture Garden on historic Canyon Road in Santa Fe, New Mexico is poised to participate in the 2014 Passport to the Arts (PTA). The highly anticipated event will take place over Mother's Day Weekend (May 9 – 11) and will draw thousands from all over the country and the world to the Road, a place where they can see art in action.
This year will be the third annual PTA, a public art event that is ideal for the entire family. PTA will offer a wide array of art demonstrations, exhibits in all mediums, live music, trunk shows and activities for the children. Canyon Road's century-old adobe structures and dynamic sculpture gardens serve as an idyllic setting for artists to create while inquisitive visitors pass by.
Perhaps the most cherished event of PTA is the "Artist Quick Draw," a timed challenge in which artists of varying mediums have to start and finish an original piece of art. This 2-hour affair provides an inimitable stage that allows art enthusiasts a chance to see the creative process unfold. Painters set up their easels in front of galleries and in picturesque spots along the Road, sculptors show their intricate processes for all to see, and jewelers string their wearable art in the open air.
After artists have put down their paintbrushes, students from Santa Fe Public Schools' music programs will perform live, and the proceeds from the weekend's festivities will go toward Santa Fe Public School's Music Education Program.
Following the Quick Draw is the Live Auction and Artist Reception. Event attendees will have the incredible opportunity to bid on the pieces of art that they saw being created during the Quick Draw.
Having recently celebrated 29 years, Waxlander Art Gallery & Sculpture Garden is a Canyon Road landmark. Phyllis Waxlander Kapp founded the gallery in December 1985 on her 55th birthday. The gallery started out as Phyllis's one-room studio and today is a fifteen-room destination. Jim Budish's bronze moose welcomes art lovers to the property, and a serene garden, filled with Greg Robertson's stone fountains made of New Mexico travertine, channels visitors over the gallery's threshold. Waxlander's extensive collection includes pieces from noted joyful landscape water colorist, Phyllis Kapp, oil landscapes from Marshall Noice, lively Southwestern scenes in acrylic by Andree Hudson, and luminous oil landscapes by Matthew Higginbotham. For more information on Waxlander and its participation in the 2014 Passport to the Arts, call (505) 984.2202 / (800) 342.2202, or email art@waxlander.com. Visit the website here: http://waxlander.com/
Visit http://waxlander.com for more information.
Contact Info
Name: Bonnie French
Organization: Waxlander Gallery and Sculpture Garden
Phone: (800) 342-2202
Address: 622 Canyon Road, Santa Fe NM 87501

Source: http://marketersmedia.com/waxlander-gallery-to-participate-in-passport-to-the-arts-2014/43384