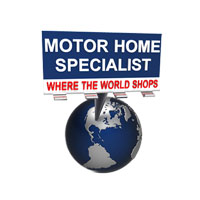 Alvarado, USA - April 9th, 2014
Leading Volume Selling Motor Home Dealer in North America is set once again to host The World's RV Show from April 21th to April 26th of this year. The show, which is spread out across more than 100 acres, features live demonstrations, motorhome walk-throughs, How To's, Q&A's and more from the leading RV manufacturers along with the largest selection of motor homes in the world with model year close-out sale pricing on 2014. The show features representatives from 10 major RV manufacturers including Coachmen, Entegra, Monaco RV, Dynamax, Sportscoach, Thor Motor Coach, Holiday Rambler, Prevost, Foretravel, Forest River Georgetown and Forest River Diesel Division.
"We are excited once again to host The World's RV Show at Motor Home Specialist", said Donny O'Banion, CEO of Motor Home Specialist, "This show is unlike any other RV show and is a result of our customers exclaiming frustration about'the other RV shows' and their pushy salespeople trying to sell aged or distressed merchandise."
"At The World's RV Show, you can see all the latest models, newest innovations and have the opportunity to meet actual manufacturer's Presidents, Vice Presidents, COOs, General Managers, Design Team Members, National Sales Managers and more. It's a great learning opportunity with no games, no gimmicks and absolutely no pressure to buy. I'm not saying we don't want to sell something during the show; that would be insulting to the intelligence of anyone reading this," O'Banion said laughing. "But as I always tell my sales team, we will need to sell something next year just as much as we need to sell something today. So with that said, anybody wanting to attend and not necessarily buy during the show, I can assure you a relaxed and enjoyable learning experience that will hopefully help you make a better buying decision for yourself and your family when you're ready. Hopefully we can have the opportunity to earn your business down the road."
O'Banion also wanted to express that there will be no "show pricing" at The World's RV Show.
Something else very different about The World's RV Show in Alvarado, Texas is that people don't have to make it to the actual show to benefit from it. Many of the factory representatives' product demonstrations will be video recorded and released after the show. People can also visit theworldsrvshow.com any time before or during the show and submit their questions to the factory rep of their choice.
The World's RV Show will feature over 500 new 2014 model motor homes open and on display with prices ranging from $49,911 to over $2 Million, as well as a huge selection of pre-owned units, and the new line of Heartland 5th Wheels and Toy Haulers.
"We are undergoing a massive expansion project at Motor Home Specialist," O'Banion excitedly stated. "We are making room for our new 5th Wheels and Travel Trailers, adding a restaurant, in-door showroom, building new office space and expanding both our service area and covered frontage. This is just another step in our ongoing commitment to customer satisfaction and diverse product availability."
Admission, parking, camping with full hook-ups, and food, drinks are FREE at the show. For a complete show schedule, make camping reservations or to ask a question, visit http://www.theworldsrvshow.com
About Motor Home Specialist:
Motor Home Specialist is family owned and operated. They are located near the Dallas/Fort Worth Metroplex in Alvarado, Texas. The RV dealership offers the largest and certainly the most diverse selection of new and pre-owned motor homes for sale. Read some of the testimonials from previous MHSRV customers at http://motorhomespecialistreviews.com/
About The World's RV Show:
The World's RV Show started in March 2013 and has quickly grown to one of the most exciting and informative RV shows in the country spread out across 100+ acres, The World's RV Show is packed with information about new and pre-owned units from leading RV manufacturers including Coachmen, Thor Motor Coach, Entegra Coach, Forest River, Dynamax and more. The free event comes to North Texas twice a year in the Spring and Fall. More information about The World's RV Show is available at http://www.theworldsrvshow.com
Visit http://www.mhsrv.com/ for more information.
Contact Info
Name: Donny O'banion
Organization: Motor Home Specialist
Phone: 800-335-6054
Address: 5411 South I-35W, Alvarado, TX, USA, 76009

Source: http://marketersmedia.com/the-worlds-rv-show-returns-to-texas-april-21st-26th/39709