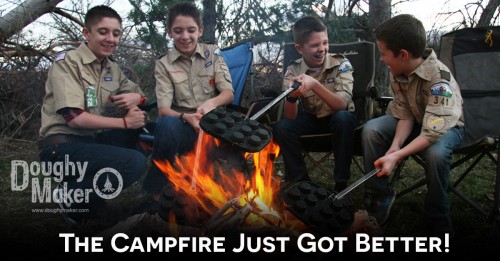 Layton, Utah, USA - March 21st, 2014
In a stroke of genius, Erik Cooley of Layton, Utah invented the gadget that would become the latest craze in campfire cooking- the "Doughy Maker."
The Doughy Maker is an innovative pan held over a campfire by means of an extendable handle, that is used to make various treats with pop-open dough. Cooley calls these treats "doughies."
The traditional recipe for a doughy involves cooking the pop-open dough in the Doughy Maker over a fire for 3-5 minutes, rotating every 3-5 seconds. Once the doughies are golden brown, they are placed in a bowl of melted butter, rolled around and then transferred to a bowl of cinnamon and sugar.
Doughies can also be created with a variety of fillings allowing users to create meals in addition to desserts. Some of the doughy recipes featured on the Doughy Maker site include doughies stuffed with ham and cheese, pepperoni and cheese, jalapeno cream cheese, cookie dough, caramel pecans and more. "The filling possibilities are truly endless and you are limited only by your imagination," claims Cooley.
When asked about her husband's invention, Judy Cooley responded, "It's easy to understand why scouts and their leaders have quickly picked up on these delicious new treats. The Doughy Maker is a ton of fun! Everyone has a blast creating and devouring these campfire treats!"
Erik Cooley didn't just invent the Doughy Maker for scouts. It has been a campfire sensation for many who enjoy camping, picnicking and/or barbecuing.
For those who interested can learn more about the Doughy Maker by watching this short video, or can visit the Doughy Maker website to purchase a Doughy Maker. The Doughy Maker sells for $24.95 plus shipping and handling.
Visit http://doughymaker.com/scouting for more information.
Contact Info
Name: Erik Cooley
Organization: Doughy Maker
Phone: (801) 706-1900
Address: Rugged Research, LLC. P.O. BOX 541 Layton UT 84040-0541

Source: http://marketersmedia.com/the-campfire-just-got-better-for-boy-scout-troops-across-the-country/37078