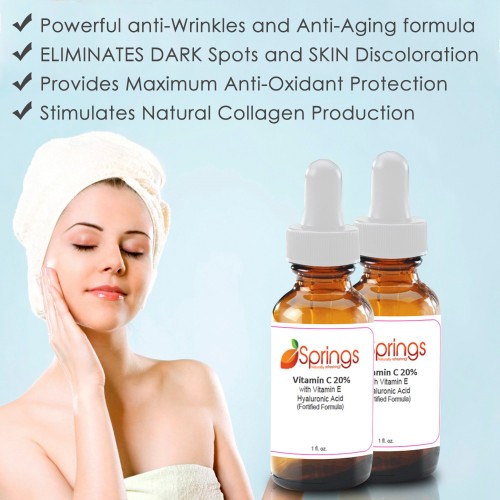 Blaine, USA - January 30th, 2014
Springs Organic Laboratories announces the releases of a highly effective organic Vitamin C Serum with three forms of Vitamin C for stability and effectiveness. This is in addition with Hyaluronic Acid and Vitamin E. These powerful ingredients help to stimulate collagen synthesis that make the skin appear younger, firmer & more vibrant.
Vitamin C Serum is proven to reduce the signs of aging and diminish the appearance of sun damage through the stimulation of collagen production.
The Springs Organic Vitamin C Serum provides the most advanced environmental protection against all forms of UVA, UVB and infrared radiation and exposure. It also Increases the skin firmness and elasticity upon application, which replenishes the skin cells in order to reduce wrinkles and wrinkle and signs of premature aging.
Springs Organic Vitamin C Serum is an advanced antioxidant formula with protective and preventive benefits which includes serving as an effective antioxidant shield that protects against free radicals and environmental damages. It helps to noticeably firm and brighten the skin while enhancing skin tone and instantly soothing the complexion acting as anti-wrinkle serum.
"Dr. Leif Rogers and Dr. Shirley Madhere both agree that the powerful ingredient that is the key to younger looking skin is Vitamin C. Dr. Rogers explains that when we are younger our skin has Vitamin C naturally, but as we age we lose the Vitamin C, which leads to wrinkles and sagging. He says things like sun damage and toxins like those from smoking speed up that process, but with Vitamin C we can actually bring back the firmness to our skin just by applying it topically"- [culled from Dr. Oz Show].
As an advanced concentrated organic formula, it provides all the ingredients needed to protect against harmful radiations. This natural and organic formula will brighten, firm and improve the overall texture, health and complexion of the skin. It will bind moisture to the skin and increase its elasticity while delaying the appearance of facial aging wrinkles.
According to Dr. Oz, Vitamin C Serum is "Safer, cheaper and easier than a facelift or chemical peel, these secrets can help drop a decade from your face." Posted on 10/31/2012- http://www.doctoroz.com/videos/drop-decade-your-face
Vitamin C is known to strengthen collagen in the skin by stimulating the production of newer ones which helps to smoothen the skin and reduce premature aging.
Collagen is the key to youthful skin, but it's production starts to diminish as the skin ages. Springs Vitamin C serum is known to activate the hydroxylation process which allows the collagen molecule to form a stronger molecular configuration thus strengthening the skin causing it to look smoother, younger and brighter. This process also provides the wound-healing effects and the dark-spot eliminating power of Vitamin C Serum. The blood vessels are strengthened and properly maintained to supply blood to the skin and neutralize age-inducing free radicals generated within the body or caused by external toxins.
With consistent use up to a month, Springs Organic Vitamin C Serum when applied on the skin will eliminate dark spots and premature aging, transforms your skin into a spotless smooth and brighter skin and stimulate natural age-defying collagen production. Vitamin C is known to strengthen collagen in the skin by stimulating the production of newer ones which helps to smoothen the skin and reduce premature aging.
About Springs Organic
Springs Organic is a brand was launched to provide customers with organic alternatives to the aggressive and often dangerous dermatological processes many resort to when dealing with premature aging and facial wrinkles. With many years of experience in formulating quality skincare products, Springs Organic Vitamin C Serum was created by highly qualified scientists in the area of quality organic skincare products. For ease of distribution, Springs Organic Vitamin C Serum is currently sold on Amazon..
Visit http://www.springsorganic.com for more information.
Contact Info
Name: Jenny Smith
Organization: Springs Organic Laboratories
Phone: 18883408834
Address: 1685 H Street Blaine Washington, 98230

Source: http://marketersmedia.com/springs-organic-announces-the-release-of-fortified-vitamin-c-serum/32161