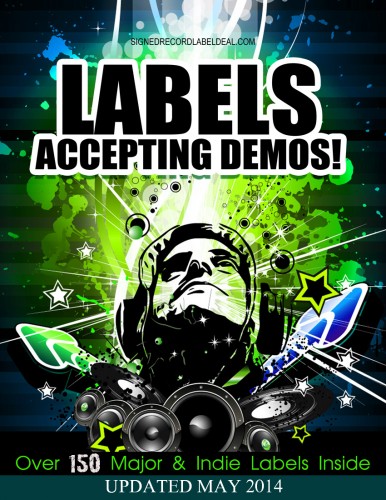 Las Vegas, NV, United States of America - May 9th, 2014
Music is inextricably linked to our emotions- Bobby McFerrin famously demonstrated the intuitive nature of the pentatonic scale in a live demonstration, and millions practice with musical instruments and singing to use music to express themselves. Many seek to do this as a professional career, but doing so requires a record label to invest in creating albums for these artists. Signed Record Label Deal is a site that offers advice and guidance on how to land a record deal, and they have released the latest edition of an e-book that shares with budding musical superstars a list of record labels looking for artists and accepting demo tapes.
Their newly updated version of their popular downloadable e-book lists record labels that are currently looking for new artists to sign, and is updated for May 2014. The e-book is seen as the standard bearer for record label talent scouting information.
The comprehensive guide to record labels accepting demos has been compiled to save individual artists months of work, and enables musicians, bands and rappers to focus on their music while at the same time actively pursuing the kind of connections that can make all the difference to an artists' long term career.
A spokesperson for Signed Record Label Deal explained, "Artists sending information to record labels are wasting their time when those record labels are fully committed to their current crop of artists. The harsh reality is that most of the artists record labels sign do not succeed, and it is only when these are let go that opportunities open up for new people. Record labels do scout for talent but it's important to approach these labels when they are ready to listen, and our guide compiles that information to give every artist the best chance of getting attention within their genre."
About Signed Record Label Deal:
SignedRecordLabelDeal.com (Signed Record Label Deal) is a website created by Derrick Johnson for musicians, singers, rappers, bands and other musical acts. The site gives information to artists about how to break into the music industry. Derrick has 20 years experience in the music business as a Label Owner, Producer and Artist, and has published an e-book of record companies looking for acts to sign
Visit http://signedrecordlabeldeal.com/ for more information.
Contact Info
Name: Derrick Johnson
Organization: Signed Record Label Deal
Phone: (775) 391-8404

Source: http://marketersmedia.com/signed-record-label-deal-publishes-new-e-book-listing-record-labels-looking-for-artists/43809