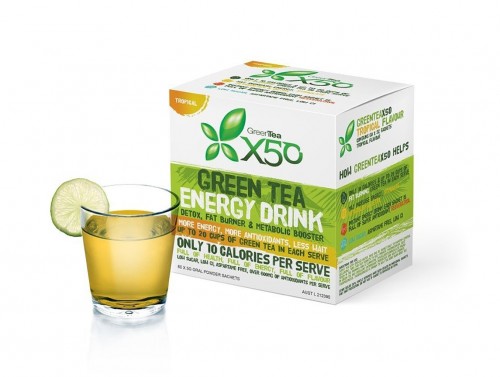 San Francisco, CA, United States of America - March 28th, 2014
Green tea has been known to the Asian cultures for centuries to have beneficial effects for the body, promoting good digestion and well being. Since then, scientists in the west have analyzed green tea and have confirmed its status as a super food, with astonishing anti-oxidant levels which help to clean the blood, boost the metabolism and hinder the production of fat, keeping the body detoxed. Green Tea X50 is a supplement powder that has concentrated all the positive ingredients of green tea into different blends so that it can be optimized for different purposes.
Their green tea fat burner maximizes thermogenesis, a process in which body fat is consumed by the body ahead of energy drawn from food, helping the body to reduce its body fat percentage. The product even comes with a free guide as to how to get the best results with a diet.
The green tea powder is blended slightly differently to maximize the boost in energy green tea gives. It is body building optimized helping the body burn fat preferentially to muscle, making ideal for those in the cutting phase who do not wish to lose mass.
A spokesperson for Green Tea X50 explained, "All our products are decaffeinated. Though caffeine is a popular drug, it still has damaging effects to the body and affects the metabolism and the body's ability to effectively absorb other nutrients. We decaffeinate all our green tea products so that their beneficial effects are unhindered, and by concentrating them further, we can give people the active ingredients of 20 cups of green tea in a single dose. With 60 sachets in a box, people have enough for a month's supply from a single purchase, which can net them dramatic results due to the active way in which it supports fat burning."
About Green Tea X50:
Green Tea X50 packs the same antioxidant punch as up to 20 cups of regular green tea, and burns body fat through increased thermogenesis. It contains as many the Resveratrol antioxidants as can be found in 25 glasses of red wine, and protects blood cells against harmful free radicals. Customers receive 60 sachets per box and an accelerated weight loss diet manual. For more information please visit: http://www.amazon.com/Green-Tea-X50-bodybuilding-Decaffeinated/dp/B00GH0CWKS
Visit http://www.amazon.com/Green-Tea-X50-bodybuilding-Decaffeinated/dp/B00GH0CWKS for more information.
Contact Info
Name: Joe Bragg
Organization: Brandoutreach
Phone: (415) 632 1664

Source: http://marketersmedia.com/newly-launched-green-tea-x50-range-harnesses-metabolic-powers-for-weight-loss/38157