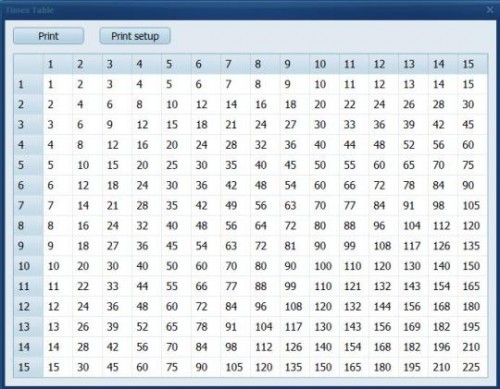 New York, NY, United States of America - December 21st, 2013
The nature of education is changing. Intelligence used to be governed by the application of rote learning, which would consume much of children's time in school. But as resources become exponentially more available and far beyond our capacity to learn by rote, the processing and interpretation of reference material is becoming more important. Media Freeware has created the Times Table to answer the most fundamental math challenges faced by young children in a way that can help them develop the useful skill of manipulating and interpreting data rather than learning it by rote.
The software takes just seconds to download directly from the Media Freeware website and contains multiplication tables from 1×1 to 15×15. All the multiplications are evidenced in unison so that individuals can use visual referencing skills to identify in seconds the answer they are looking for, aiding them with homework or other tasks.
The software uses minimal processor resources so can be active in the background and allow the computer to function normally, meaning it is always readily available without being shut down and restarted. The software is free of any spyware, adware or other malware and can even print a given times table for physical reference.
A spokesperson for Media Freeware explained, "Many school children are without the most fundamental resources when it comes to their basic education and with the Times Table we are looking to fill one of those gaps with a simple and free guide to the times tables from one to fifteen. This information is usually drilled into children through rote learning but now it is as simple as consulting our handy reference guide. Users can simply go 'along the corridor' then 'up the stairs' to identify the tabulation they need and reveal the correct answer."
About Media Freeware: Media Freeware is a software development company that provides user friendly solutions freely to the general public. They use a team dedicated to building free and robust programs and apps, ranging from virtual pianos to webcam recorders. All of the company's solutions can be downloaded direct from the website, and aim to provide the best experience for users
Visit http://www.mediafreeware.com/times-table.html for more information.
Contact Info
Name: Rob Stabile
Organization: Media Freeware
Phone: 212.219.3286

Source: http://marketersmedia.com/media-freeware-creatse-the-times-table-table-to-help-students-find-solutions-easily/28942