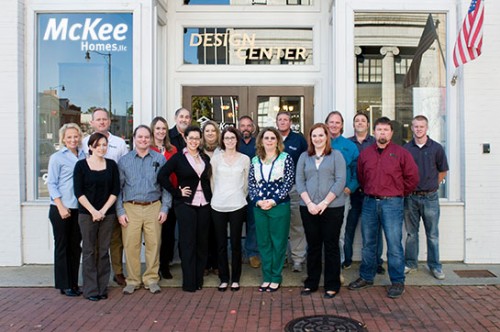 Fayetteville, NC, United States - February 6th, 2014
McKee Homes recently announced the opening of the new McKee Homes Design Center located in downtown Fayetteville at 101 Hay Street. The ribbon cutting ceremony will be held promptly at 4:00 PM Thursday, February 13, 2014, says company co-owner Pat McKee. "Late last year, we remodeled the space at 101 Hay Street next to the Market House in the downtown area, creating a design selections center on the first floor and offices for McKee Homes staff on the second floor. Now, we're proud to have our ribbon cutting ceremony to show off our new Design Center."
"We are currently operating primarily from the new location in our beautiful new space in historic downtown Fayetteville. The Market House was originally the site of the State House, built in 1832. It's architecturally unique in North Carolina as it's one of the few structures in all of North America to use the town hall scheme found in England. Today, the Market House is a National Landmark and stands as a unique focal point to Fayetteville's major downtown streets."
Describing the building's rich history, McKee goes on to say, "The first floor of our new location served almost continuously as a drug store/pharmacy from 1872 until 1937 and again as Market Square Drugs from the 1950's until the mid 1980's. There was also a doctor's office located in the rear of the building. It is truly an interesting space with a lot of history."
The ribbon cutting ceremony will last approximately 20 minutes featuring a guest speaker, as well as a few words from Pat McKee and Julie Russo. There will be refreshments afterwards and the McKee Homes staff will be available to answer questions and give design center tours.
About McKee Homes:
Based in Fayetteville, North Carolina since 2010, McKee Homes is a home builder committed to detail oriented projects and excellent service. The firm builds in the Raleigh, Wilmington, Fayetteville, and Fort Bragg regions of North Carolina, and is one of the fastest growing new home builders in the area. Their homes can be found in some of the area's most coveted neighborhoods, offering comfort and convenience only a short distance from the Fort Bragg, Raleigh & Wilmington Metro Areas. As one of the fastest growing builder of Fayetteville Homes in the area, McKee Homes is known for their exceptional floor plans that have been designed and refined to be very livable. They focus on open floor plans with numerous windows to let in natural light. McKee homes is an active participant in the local community, designating a portion of new home sales to the Alzheimer's Association.
Visit http://www.mckeehomesnc.com/blog/new-mckee-homes-design-center/ for more information.
Contact Info
Name: Pat McKee
Organization: McKee Homes
Phone: 910-475-7100
Address: 101 Hay Street, Fayetteville, NC 28301

Source: http://marketersmedia.com/mckee-homes-announces-ribbon-cutting-ceremony-for-new-fayetteville-homes-design-center/32799