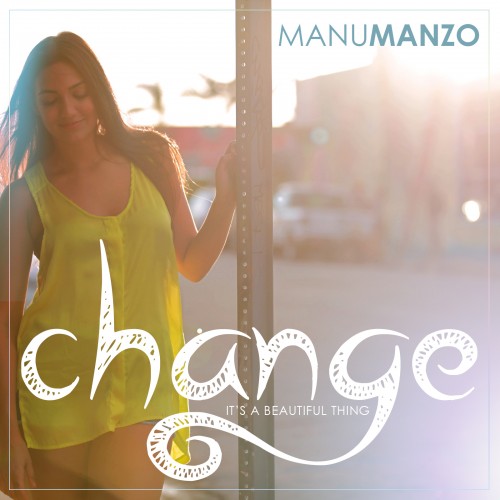 Miami, United States - January 23rd, 2014
Manu Manzo has released "Change (It's a Beautiful Thing)", the debut single from the independent singer/songwriter. The uplifting song is now available for stream on Soundcloud and Spotify , and for purchase on the iTunes Store .
Born in Venezuela and raised in Miami, Manu Manzo is currently residing in Boston while studying Music Business and Performance at Berklee College of Music. In 2014, she will be releasing a trio of songs – written in collaboration with Songwriters Cris Zalles and Elsten Torres, as well as Grammy Award Winning Producer and Engineer, Juan Carlos Perez Soto.
January 1st marked the turn of the New Year, a time when almost everyone in the world is itching for a change. For Manu Manzo, her debut single not only symbolizes a fresh start to a new year, but also her professional career. Though the song was inspired by a break up, her message is universal and stems farther than just a relationship:
"It's a message promoting change in a positive way – whether it's a break-up, or changing jobs and moving cities. No matter how bad times get, change is always a good thing if you look at it with a positive mind and heart. Good will always come out of it."
ABOUT MANU MANZO:
Nineteen year old singer, songwriter and dreamer. Manu's influences vary from Latin artists to Jazz; Hip-Hop and Neo Soul; as well as Rhythm and Blues. Manu aims to create a sound that combines genres; one that is very Jazz and Hip-Hop oriented, while incorporating today's Pop sounds and maintaining the essence of an old school vibe.
ABOUT JUAN CARLOS PEREZ SOTO:
Born in Venezuela , this Miami based producer, engineer, songwriter and composer, has been in the music industry for over 30 years. The Award winner producer has worked with Music celebrities like Ricky Martin, Paulina Rubio, Olga Tañón, Luis Fonsi, REIK, Alex Ubago, Ricardo Montaner, among others.
For additional information please visit www.manumanzo.com or email: manzomusic@gmail.com
Visit http://www.manumanzo.com for more information.
Contact Info
Name: Manu Manzo
Organization: Manzo Music
Phone: 3057537531
Address: 1504 Bay Road, #1102, Miami Beach, FL 33139

Source: http://marketersmedia.com/manu-manzo-releases-debut-single-change-its-a-beautiful-thing/31576