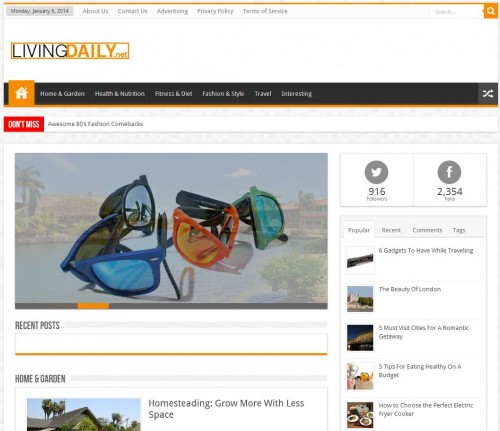 Manahawkin, NJ, United States of America - January 15th, 2014
Life is something that everyone goes through. The good life however has been conceptually captured to mean affluent living, when this is in fact not the case. Many people want to live a full and satisfied life no matter their income, and more and more people are looking for guidance as to how to achieve that. LivingDaily is a new website that specialises in giving advice and guidance on a broad range of lifestyle topics to create a unified solution for those seeking wellness, with new articles published daily.
The site offers advice on health and nutrition, fitness and dieting, home and garden, fashion and style, travel, and general interests. The editorials posted within each of the topics are written by experts in their field and feature unique insights in easy to read plain English. The posts also come replete with high quality imagery to refresh and inspire tired minds.
The website also breaks down its articles by popularity, newest, and random posts so that users with an eclectic range of interests needn't be limited by the sub-categories of the blog. Their long term plan is to create a culture of pro-active cultivation among their regular readers.
A spokesperson for Living Daily explained, "We have worked hard to put together a team that creates amazing and insightful content on a regular basis, based around their areas of special expertise. The articles we publish are as a result fascinating and informative, and all come with a positive, pro-active tone of voice that our editors ensure are instilled into every word, helping to inspire people not just to read this advice but to take it and act upon it, bettering themselves and by extension the world they're a part of."
About Living Daily:
Living Daily is a new lifestyle website covering a huge array of topics surrounding health, wellbeing, happiness and getting the most out of life. The website frequently updates with new articles across all topic areas and regularly features guest blogs from expert writers sharing their knowledge and know-how. The website is also active on social media with a Twitter feed and Facebook page
Visit http://livingdaily.net for more information.
Contact Info
Name: Zack Burnett
Organization: Living Daily
Phone: 609-607-6221

Source: http://marketersmedia.com/living-daily-launches-to-provide-lifestyle-advice-tips-and-guidance-for-users-everywhere/30698