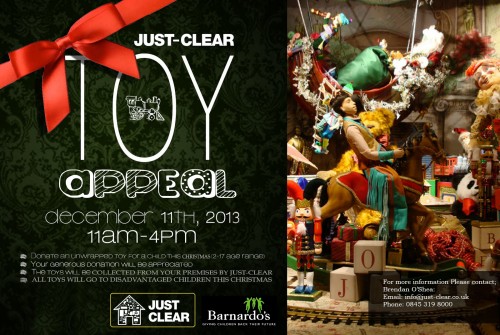 San Francisco, CA, United States of America - December 2nd, 2013
Many children's toys may be unwanted by their original owners but can bring fresh joy to children in need at Christmas time. In a time of sustained economic downturn where record numbers are turning to food banks just to feed their families, Just Clear is trying to minimise the impact of these hard times of disadvantaged youth by making an open call for donations of toys that can be given to new owners this Christmas. The campaign will take place on December 11th.
The company, who provide furniture and junk removal and house clearance for homes, offices and shops throughout the UK are happy that their annual Christmas Toy Appeal is returning in 2013 after a successful year in 2012. The appeal owes its success to the transport infrastructure that lends the company its strength in business- the removal vans will visit every location willing to donate a toy to collect in person.
The toys are then reconditioned and wrapped ready to be received by children who face the very real threat of poverty and may otherwise go without gifts at Christmas time. The move is part of the company's strong ethical manifesto, which prioritises recycling and green practices in its removals and 'upcycles' these gifts to save them from landfill, and impoverished young ones from deprivation in the holiday season.
A spokesperson for Just Clear explained, "Christmas is coming and every year thousands of children are left devoid of the joy that so many millions feel. We believe this is a tragedy, and all the more sad because a little action can make a huge difference. To change this, we host an annual Toy Appeal which will take place this year on December 11th, when clients or interested parties can donate any unwrapped toy to a disadvantaged child in time for Christmas. We do not ask for money, and we will bring out vans to the premises to collect the donation on behalf of the children."
About Just Clear:
Just Clear is a local, eco-friendly and cost-effective alternative to skip hire in the UK. The company offer full-service junk removal for homes and businesses across the UK including domestic, retail, offices and more. Their professional and friendly team is happy to remove items from anywhere on the property, including computer, printer and monitor recycling
Visit http://www.just-clear.co.uk/ for more information.
Contact Info
Name: Joe Bragg
Organization: Brandoutreach
Phone: (415) 632 1664

Source: http://marketersmedia.com/just-clear-launches-christmas-toy-campaign-to-recycle-joy-for-children-this-christmas/26971