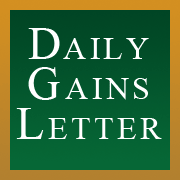 New York, NY, United States - July 17th, 2014
Daily Gains Letter (www.DailyGainsLetter.com), an e-letter published by Lombardi Publishing Corporation, a 28-year-old consumer publisher that has served over one million customers in 141 countries, is cautioning investors that the rising flow of capital into the stock market by retail investors is vulnerable, as the bull market is at risk of a pullback.
"Back in 2000, the stock markets came crashing down after a sizzling but unwarranted run-up in technology stocks and initial public offerings," says financial analyst George Leong. "It wasn't pretty." While he doesn't believe the stock market is priming for another major sell-off right now, Leong notes that he is still nervous.
Leong explains that the Dow Jones Industrial Average recovered to close above 17,000 earlier this week, but if it fails to hold, investors should be wary. The failure of the S&P 500 to test 2,000 despite coming so close is also a red flag.
"Unlike 14 years ago, the current bull market, which is in its fifth year and looking increasingly weary, has largely been driven by the easy money the Federal Reserve has been pumping into the economy," Leong adds. "The reality is that this third round of quantitative easing will likely be dissolved by October and interest rates will be heading higher by mid-2015. This will have a negative impact on the stock market."
In addition, the rising flow of capital into the stock market by retail investors is also a red flag that has generally been followed by selling in the past. Investors who sat on the sidelines are beginning to jump back into the stock market for fear they will miss out on further gains, says Leong. Over the last year, approximately $100 billion has flowed into mutual funds and exchange-traded funds, a tenfold increase over the previous 12 months. (Source: Wang, L., "Individuals Pile Into Stocks as Pros Say Bull Is Spent," Yahoo! Finance, July 14, 2014; http://finance.yahoo.com/news/individuals-pile-stocks-pros-bull-083111149.html.)
"This is a dangerous strategy. When retail investors start to chase gains when the stock market is high, you have to pause and step back; remember that the same massive cash infusion occurred prior to the carnage in early 2000," Leong concludes. "For investors looking to enter the stock market, I'd suggest taking the low-key wait-and-see approach."
For more information on Daily Gains Letter, visit www.DailyGainsLetter.com.
Founded in 1986, Lombardi Publishing Corporation, which has served over one million customers in 141 countries, is one of the largest consumer information publishers in the world. For more information on Lombardi Publishing Corporation, visit www.lombardipublishing.com.
Visit http://www.dailygainsletter.com/ for more information.
Contact Info
Name: Wendy Potter
Organization: Lombardi Publishing Corporation
Phone: 905 856 2022
Address: 350 5th Avenue, 59th Floor, New York, NY 10118

Source: http://marketersmedia.com/daily-gains-letter-warns-investors-to-be-cautious-bull-market-looks-more-vulnerable/54609