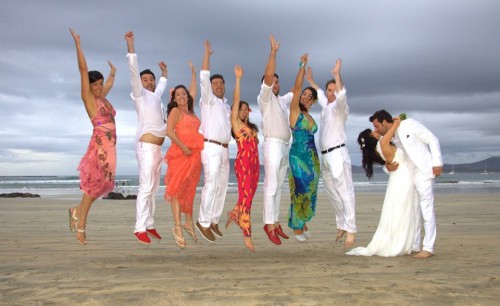 Tamarindo, Costa Rica - December 6th, 2013
Weddings can be a pricey event, there's no doubt about it. It's a big day, an important day, and the bride and groom want everything to be perfect. Couples in the United States spent, on average, $28,500 to tie the knot in 2012 according to TheKnot.com report. That's almost as much as most people put as a down payment for a new home. With such exorbitant costs associated with wedding fees in the United States, a new trend is emerging, that of the destination wedding.
Destination weddings have become quite popular among couples looking to have a luxurious and extravagant wedding, without going into debt. According to The Huffington Post, about 2 million Americans get married each year, and 25% of those happy couples decide on a destination wedding. Rather than pinching pennies, cutting corners, and snubbing certain friends and coworkers who don't make the final guest list, couples who decide to have a destination wedding find that they save money, have a built-in honeymoon, and can invite everyone they want, knowing full well they won't all show up. Costa Rica is one of the most popular locations for a destination wedding, as it is a beautiful country with pristine beaches,abundant nature, many different lodging options, a delicious local cuisine, and most importantly, it's affordable.
While it's hard to determine an average cost of a Costa Rican destination wedding, as the variety of options is unimaginable, rest assured that a wedding in Costa Rica is likely to cost less than the average price of an engagement ring in the United States, about $5,000. The price for venues, caterers, flowers and decorations, beer, wine, and liquor is considerably less in Costa Rica than in the United States, lowering the overall cost of a destination wedding. Plus, the attendance rate for a destination wedding is usually about 50% of the overall guest list, helping reduce the cost of a wedding without having to feel guilty about not inviting a third cousin twice removed. Even after airfare and accommodations are factored in, couples who have a destination wedding in Costa Rica spend considerably less than those who opt for traditional weddings at home.
Costa Rica is a beautiful country and there are numerous breathtaking backdrops in which to have a wedding. The beaches of the Pacific Ocean, the lush jungle, or the majestic Arenal Volcano are all popular locations for destination weddings and by providing natural beauty, alleviate some of the pressure of picking the right flowers or table centerpieces. As Costa Rica becomes a more popular option for destination weddings, the wedding planning sector continues to grow, providing couples with lots of options to choose from. Professional photographers abound in this picture perfect country as well, and for a great price.
The biggest catch though to a Costa Rican destination wedding is that the dream Honeymoon can start right after the wedding without the expense of buying a plane ticket to get there. Planning a destination wedding in Costa Rica can be easy and affordable.
Tropical Events by Jamie is a boutique event planning company based in Costa Rica that offers wedding and event planning services capturing Costa Rican charm and style to ensure your wedding or event is unforgettable for more information Visit tropicaleventsbyjamie.com.
Visit http://www.tropicaleventsbyjamie.com for more information.
Contact Info
Name: Jamie Pascucci
Organization: Tropical Events by Jamie
Phone: (239) 935-5428
Address: Tamarindo, Costa Rica

Source: http://marketersmedia.com/a-costa-rica-destination-wedding-is-popular-and-affordable/28072